Where Vegetables Meet Flavor
A perfect pairing that makes mealtime enjoyable for the entire family

Where Vegetables Meet Flavor
A perfect pairing that makes mealtime enjoyable for the entire family
Better Flavor. Better for You.
Our flavors are real. Meaning real ingredients, real deliciousness, and a real-ly superb mealtime experience. Eat good, feel even better. Make all your vegetable dishes more exciting with these flavorful blends! Preparing perfectly delicious vegetables has never been easier with our Veggie Season's family of flavors. All our Veggie Season's products are cholesterol-free, contain real ingredients with zero grams of trans fat, certified Kosher, gluten-free and are non-GMO.

Extra flavor is just a sprinkle away.
Fun. Flavorful. Organic too. Veggie Season's are the perfect complement to mealtime.
Add a little seasoning to your favorite vegetable dishes like the deliciously cheesy Sharp Cheddar, the kickin' Red Pepper Cajun or even the zesty Homestyle Ranch, and you'll have the family all bite, no talk.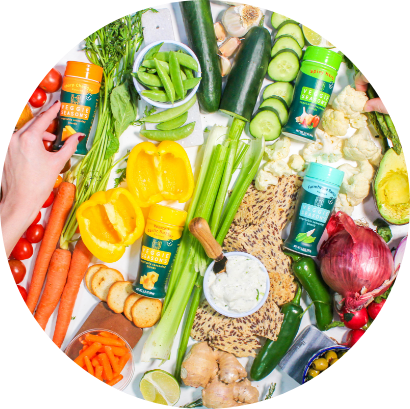 Family of Brands Top Sellers!