Introducing a fresh new look for the Sauer's brand.
We're spicing things up with bold, easy-to-shop packaging, an updated logo that nods to our history, and imagery that entices the senses as much as our products do.
Underneath it all, the flavorful spices, seasonings, and extracts you know and love are not changing. We're still grinding, blending, and bottling right in Richmond, Virginia, just as we have been for the last 132 years.
Learn more about the rebrand below.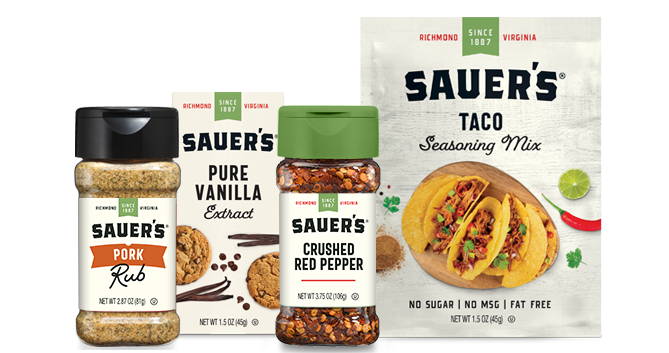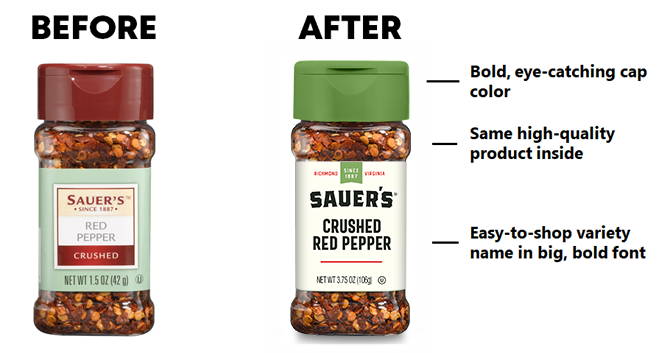 Frequently Asked Questions
Why did the packaging change?
Busy consumers need simple, easy-to-shop packaging, so we designed our new labels with two things in mind: clarity and visual impact. The unique green cap color helps the product stand out on crowded store shelves, and the large, bold lettering makes it easier for shoppers to quickly find the ingredients they need.
Which Sauer's products will get the new look?
The new packaging will roll out across all Sauer's products, including over 175 spices, seasoning blends, extracts, and condiments.
Nope! You'll find same high-quality product inside every bottle.
Why have I seen a mix of old and new packaging?
We are fulfilling new product orders as needed, so you may see both old and new packaging on the shelves. Don't worry – the product inside is exactly the same!
Is the rebrand related to the recent company acquisition?
No, the motivation behind the rebrand is to better align our brand with the changing preferences and needs of our customers. The new look, shaped by customer insights and input, was well underway before the acquisition agreement.